*Working In a Series
The first week of my Working in a Series workshop with Lisa Call is complete. I have been eagerly awaiting this and couldn't wait to jump in with both feet. I had two general ideas for possible themes and was having a very hard time making up my mind. The choice was between strip piecing a la Nancy Crow and map quilts somewhat a la Valerie Goodwin. Jillian, my coach, had strongly urged maps, partly because of the potential for entering Sheila Xs' show, and partly because of the more emotional expression that is involved. I was leaning the other way, and ended up going with the strip piecing. There were two main reasons. First, when I understood how narrowly we needed to define the series, I knew I didn't have enough ideas to narrow the maps to where it would be a good working concept. Second, of the eight class members, two others were doing maps/aerial view ideas.
It seems whenever I think I have something unique to do, there are a dozen or a hundred others doing it. Why am I always just a day late and a dollar short?! Not that I have to have the monopoly on maps, but I don't want to seem like I'm jumping on a bandwagon just when everyone else does. However, I am also starting to realize that its not the idea, it's the execution that matters.
So I decided on the strip piecing, then with Lisa's help the parameters were narrowed enough to give me a place to start from, and work from. An overall size, based on the golden rectangle, and a color palette were defined/selected. I also limited the sizes of strips to be cut, basically to small, medium, and large. Here is the original palette I selected. I say original, because about 5-6 more snuck in there when I wasn't looking.
I wanted to make sure that I had a good range of values, but also that the colors would "go" together such that when the series is seen as a whole, there is a sense of cohesion.
Here are some of the images that inspired my series definition:
Paul Klee: Fire Evening
Elin Larimer, Pajama Party IV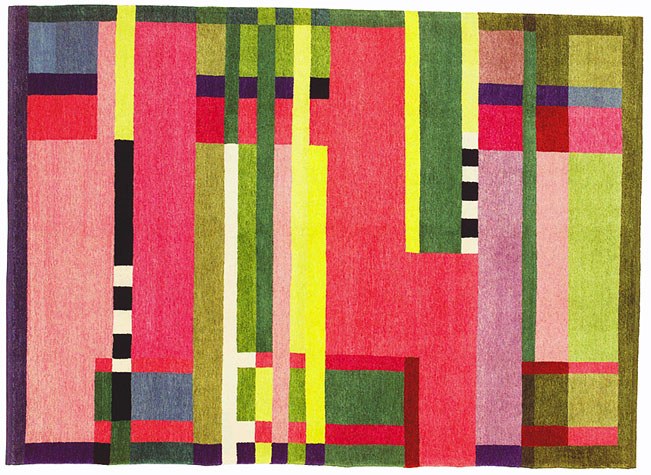 Gunta Stolzl, Tapestry
This horrendous thing was my very fast attempt to intuitively create a "maquette" for the series. I tried to be too intuitive and quick and did NOT in any way intend to put a big green E in the middle of it. But there you have it. Fail.
I just couldn't leave it as it was with the E. This is not really any better, but it at least doesn't scream at me.